Angela Murray, Jennifer Gutterman and Daryl Andrews will be attending Breakout 2019!
Angela Murray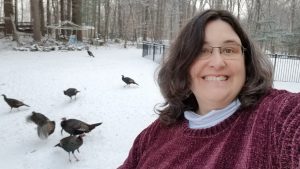 Angela has been playing roleplaying games for over thirty years now, but shockingly, she didn't start running games until 2004. Once she got into GMing, though, it was as if a dam broke. She's one of the prominent authors at the award-winning blog, GnomeStew, where she writes articles discussing everything from GMing advice to the art of the #tableselfie. She is also the primary host of the Gnomecast, a podcast featuring the GnomeStew authors and hosted on the Misdirected Mark Network.
Jennifer Gutterman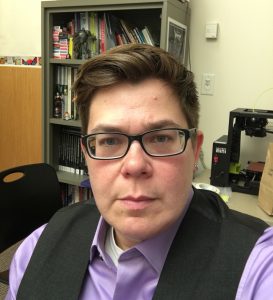 Jennifer Gutterman is an educator and artist focusing on 3D game assets and world building for digital and analog games. Jennifer runs the Game Design program at Manchester Community College, in Manchester, Connecticut and is the Visiting Professor of Animation & Game Design at Hampshire College in Amherst, Massachusetts. In addition, Jennifer is also freelance 3D artist and illustrator for games and animation.
Daryl Andrews
Daryl Andrews is a freelance game designer and developer, who began designing in 2013 and went full-time in 2015. With 30 board games already released from 20+ different publishers, Daryl's output has been unrivaled over the last few years. Beyond design, Mr. Andrews has also worked as a consultant for a variety of gaming companies with a special focus on popular licenses, including Back To The Future, Teenage Mutant Ninja Turtles, Ghostbusters, the NHL, Oregon Trail and more.
Currently, Daryl serves as the President & Co-Founder for a start-up game publishing company called MAPLE Games, a company created to bring high quality, family friendly games to market. Maple's first game, Dragon Boats of the Four Seas, designed by Michael Schacht (Coloretto, Zooloretto) successfully funded on Kickstarter in Oct 2018. Maple's second game, Imagineers, designed by Chris Leder and Ken Franklin successfully funded on Kickstarter in Dec 2018. The next upcoming game for MAPLE is called, Folding Space, designed by Alan Moon (Ticket to Ride, Elfenland) & Bobby West, featuring art from Vincent Dutrait. More info at: www.maple.games
Notable Designs by Daryl Andrews:
The Oregon Trail (Pressman Games)
Sagrada (Floodgate Games)
City of Gears (Grey Fox)
Ghostbusters: The Card Game (Albino Dragon + Renegade)
Speakeasy Blues (Artana)
Roar: King of the Pride (IDW Games)