Nell Raban, Patrick Keenan and Stentor Danielson will be attending Breakout 2019!
Nell Raban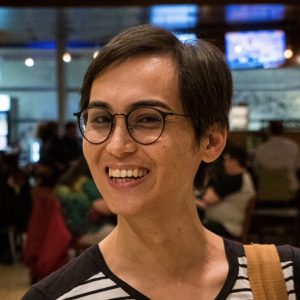 Nell works in software development by day and writes and designs games by night. In her former life she wrote plays and dramaturged and critiqued theatrical productions around the American Midwest, and her performance scholarship has won awards you've never heard of. You can find some of her work in the Mythic D6 Adventure Anthology and Orun by New Agenda Publishing. Nell is currently developing The Others, a Powered by the Apocalypse RPG about marginalized communities. When she's not writing, Nell can be found wandering the streets of Chicago chasing her next big idea, tweeting idly as @nell_do_well or lapping at the dregs of a cup of coffee.
Patrick Keenan
Patrick is one of the co-owners of Dundas West Games. Patrick co-authored Zany Zoo and is currently working on the upcoming Ross Rifles, as well as several untitled smaller projects. In addition to this, Patrick has experience using tabletop roleplaying games in an educational setting for teenage and young adult audiences. Outside of the RPG industry, Patrick is a student pursuing his undergraduate degree in Archaeology, History, and Near Eastern Studies at the University of Toronto. Patrick is also a trombonist with the Hart House Symphonic Band and is passionate about using RPGs as an educational tool for the arts.