Corey Reid, Phoenix Jacobs and Stephanie Bryant will be attending Breakout 2019!
Phoenix Jacobs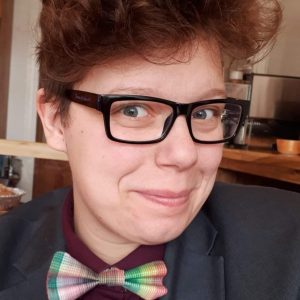 Phoenix Jacobs is a queer enby settler of Hamilton, Ontario. They are a Social Justice Bard with a severe case of Game Design Brain. With a gaming history rooted in facilitating hundreds of nordic and parlor larps, they have hacked a great many games to work for alternate numbers of players, settings, and available resources. They submitted 'Where Do We Go From Here?' (a game exploring themes of suicide in an afterlife support group) to the 2018 Golden Cobras. Recently, Phoenix has begun to explore what can be done sitting around a table in more depth. They are currently working on a game about small, personal magics called 'Transcendental' as well as a party adventure larp for kids. They also love providing support to game designers through their virtual assistant business, Peacock Productivity.
Phoenix lives with their two energetic kids and a bunch of co-parents (including their partner, the lovely Bronwyn Friesen), a dog, a cat, and a fish. They are a disabled and have lived experience with chronic physical and mental illnesses, all of which they are happy to have conversations about. They also recently abandoned a life of academia -- specializing in human geographies -- and would be delighted to talk your ear off about all of that too!