Andrew Valkauskas, Sen-Foong Lim and Shiraz Sheikh will be attending Breakout 2019!
Sen-Foong Lim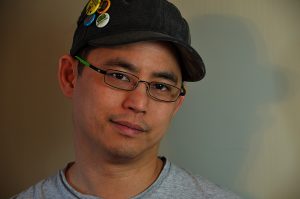 Sen-Foong Lim started designing games as early as he can remember as a way to create new worlds to play in and systems to explore. He would often make games for school projects and ended up playing card and board games voraciously throughout his entire school career. He decided to try his hand at making games professionally when he and his design partner, Jay Cormier, became geographically separated due to work requirements. They chose game design as their way of keeping their friendship strong, despite the physical distance between them.
Jay and Sen burst onto the scene in 2011 as the designers of the Euro-styled strategy game Belfort and has since rose to prominence with games like But Wait, There's More!, the party game about pitching wacky products, Junk Art, a family-oriented dexterity game, and Akrotiri, a 2-player game about unearthing lost temples in ancient Greece.
As their games have met with critical and financial success, Sen has been honoured to be work on games featuring some of fandom's most beloved properties including "The Legend of Korra" (with Jessey Wright), "Orphan Black", "The Godfather" (both with Jay Cormier) and "Dungeons & Dragons: Rock, Paper, Wizard" (with Josh Cappel and Jay Cormier). Sen loves collaboration with other designers, veterans and rookies alike!
Sen has recently begun to put pen to paper on the RPG side of tabletop design, contributing scenarios and settings to Kids on Bikes (the brainchild of Doug Levandowski and Jonathan Gilmour), Gears of Defiance (from indie stalwart Ryan Schoon), and The North Sea Epilogues (by Tim and Kristin Devine). He is also a highly sought-after developer and rules editor, with an ability to take other people's games across the finish line. He has worked in this capacity for companies like WizKids, Everything Epic, and Meridae Games.
A well-regarded personality in the design-o-sphere as the co-host of The Meeple Syrup Show webcast, Sen has also presented to students in the game design programs at the University of Waterloo and Wilfred Laurier. He is frequently a panelist or moderator at Gen Con, Breakout Con, FanExpo, GenreCon, Forest City ComiCon, AnimeNorth, ProtoTO and ProtoATL. He loves talking about game design, so reach out anytime!
Also, Sen may have to use jiu jitsu on you if you choose to play as yellow before he gets a chance but you can always try to distract him with good BBQ.
Shiraz Sheikh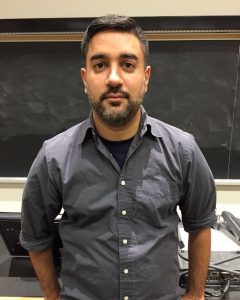 Ever since his older cousin bequeathed his copy of the AD&D Dungeon Master's Guide to him when he was just 10 years old, Shiraz has been playing role-playing games for over 30 years. Shiraz is co-founder of Akinji Entertainment. By day, Shiraz makes his living as a professor of history and teaches at several universities around Toronto, Canada. By night he is a master board game player, and his true passion lies in the crunch of developing game mechanics.